Waterproofing Bay Bulls clean water treatment plant tanks, NF,Canada
Project:
Bay Bulls Big Pond Water Treatment Plant, St. John's, Newfoundland, Canada

Designer

:
CH2MHill & Newfoundland Design Associates Limited

Owner

:
City of St. John's

Contractor

:
JDCMI

Products

:

Cem-Kote Flex ST

Objective

:
Waterproofing of concrete tanks in a drinking (clean) water treatment plant.The facility was built in 2011 and Cem-Kote Flex ST waterproofing system was installed in 2012. Cem-Kote Flex ST was applied in two coats and reinforced with Reinforcing Fabric HD. Each coat was brushed to achieve membrane continuity. The interior of a tank is shown in Figure 1. Applied Cem-Kote Flex ST is shown in Figure 2 and the application of the coating system in Figure 3.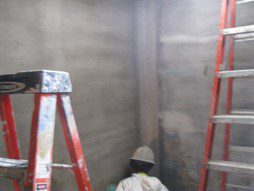 Application of Cem-Kote Flex ST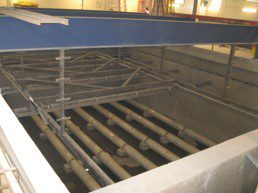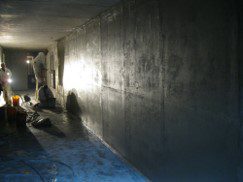 Application of Cem-Kote Flex ST and HD Fabric