Restoration & Waterproofing of Parking Garage, Toronto, Ontario
Project:
Repair & Waterproofing of interior parking garage slab-on-gradeConsumers Road, Toronto, Ontario

Designer

:
Gemite Products Inc.

Contractor

:
Atlas Apex Roofing Inc.

Products

:

Gem-Crete HF ST, Cem-Kote Barrier Cote 100, Reinforcing Fabric HD

Objective

:
In many underground parking garages, the slab-on-grade (foundation slab) has not been protected and waterproofed – especially in older commercial and high-rise buildings constructed at a time when only epoxy or urethane systems were available.

It was very quickly recognized that these Non-breathable, polymer-based system (epoxy or polyurethane) are not suitable, since they de-bond due to water vapor transfer causing condensation of the water at the concrete membrane interface and buildup of capillary pressures.

In most cases, the unprotected surface of the foundation slab erodes over time, resulting in extreme surface roughness. Poor concrete finishing techniques ("working in bleed water"), rained-on and frozen concrete, combined with traffic often contribute to additional surface roughness.

In addition, these slabs often exhibit drying shrinkage cracking and delamination due to corrosion of the reinforcing steel, water leaks and failing expansion joints.

Surface roughness represents a serious liability problem due to trips and falls.

Gem-Crete HF ST and Cem-Kote Barrier Cote 100 by Gemite Products Inc. offers a solution for the repair and protection of such surfaces with an economical, "breathable" system that does not debond.

Gemite System provides leveling, waterproofing and long-term performing highly abrasion and crack resistant surface. The thin topping system is breathable, non-toxic, with no smell and is very easy to apply.

This repair system is also applicable to exterior parking garage slab applications with high freeze/thaw and snow plough damage.

Application Steps:

Clean concrete using 48 MPa (7,000 psi) high-pressure water to obtain clean & profiled surface
Treat drying shrinkage cracks using Gem-Crete HF ST + Reinforcing Fabric HD
Use Fibre-Prime rustproofing to protect an exposed rusted reinforcing steel (rebar)
Repair any delaminate areas using Fibre-Patch OV, applied into a wet Cem-Kote Barrier Cote 100 used as a bonding agent.
Apply Gem-Crete HF ST using a squeegee and finishing broom to even out the deteriorated rough and smooth surfaces. Use Cem-Kote Barrier Cote 100 as a bonding agent for any areas heavily exposed to oils and hydraulic fluid (car cleaning bays), before the application of the Gem-Crete HF ST
Spray apply and broom finish Cem-Kote Barrier Cote 100.

Gem-Coat WA Plus – unifying color sealer may be used, if needed.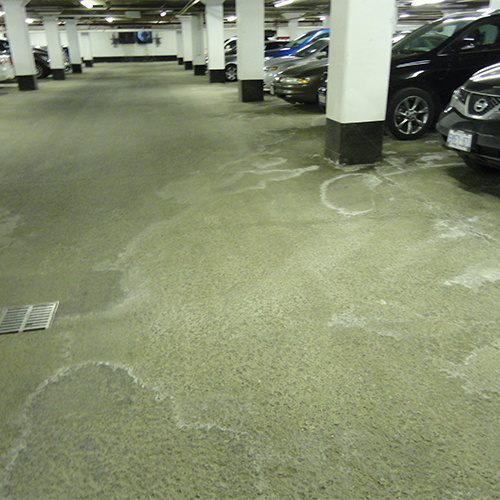 Rough Surface of Parking Garage Slab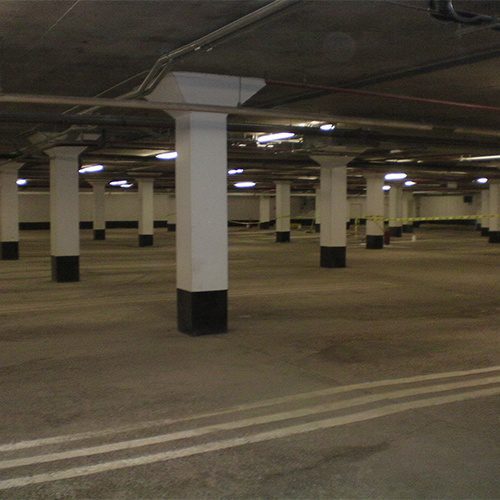 Parking Garage During the Substrate Preparation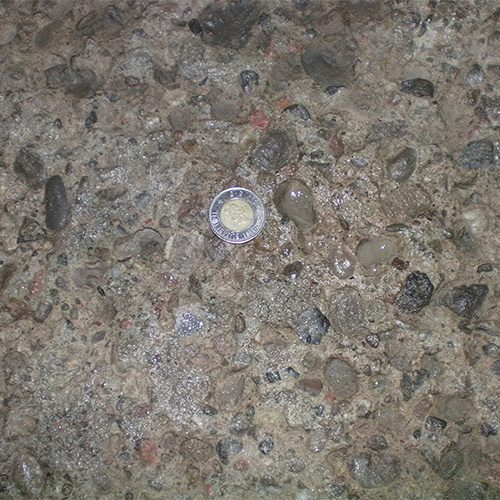 Slab Surface After 7,000-PSI Pressure Water Cleaning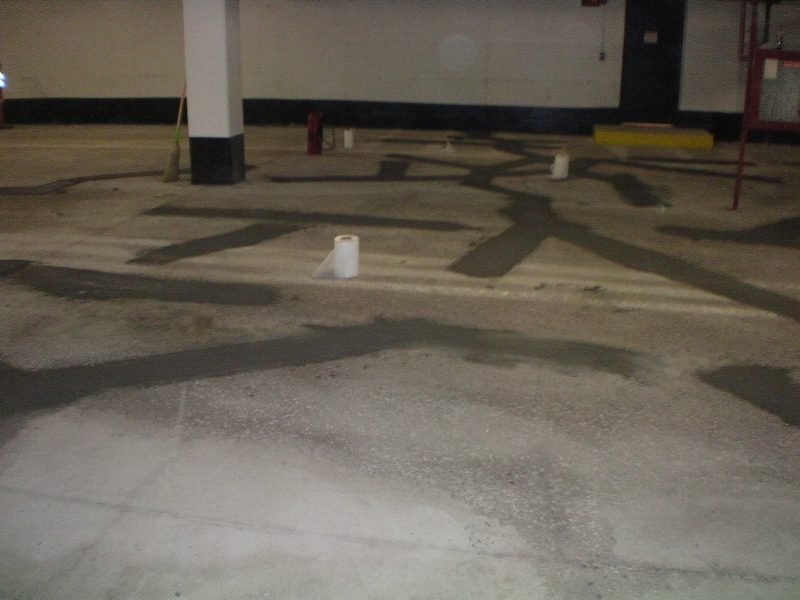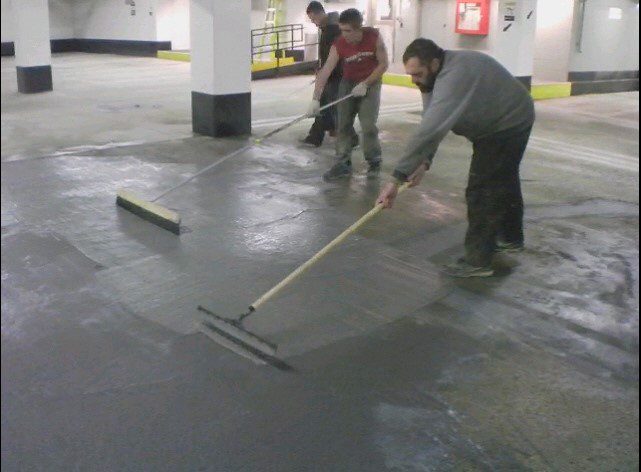 Gem Crete HF ST Application Using a Squegee and Concrete Finishing Broom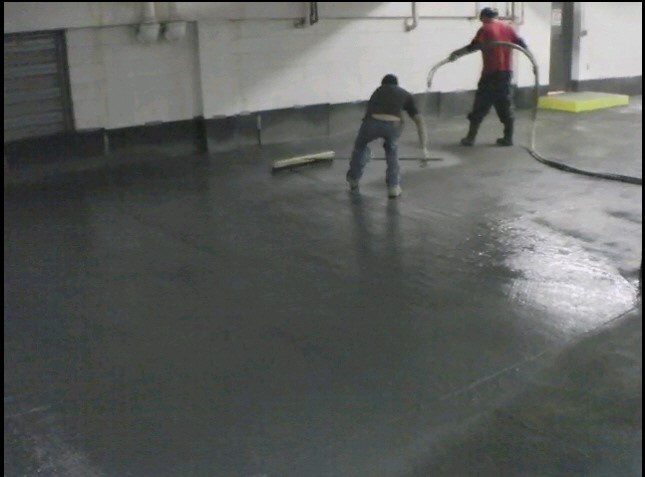 Cem-Kote-Barrier Cote 100 Application by Spraying and Brooming