Environmental Responsibilty
Home
Environmental Responsibilty

Our Team works hard to maximize Sustainability and Environmental Health by delivering material systems with the lowest possible carbon footprint, and by eliminating or minimizing VOC.  Gemite is a proud partner in the LEED Green Building Concept and our materials have qualified for LEED Credits.

Our Commitment is to develop greener products, reduce waste and conserve natural resources. Gemite's sustainability efforts continually target operational improvements.  Our strict eco-friendly standards and policy for incorporating green chemistry into all product development, displays Gemite's continued leadership in delivering innovative products that meet market demands, while satisfying environmental, economic and social objectives.
Click to open LEED Credit Chart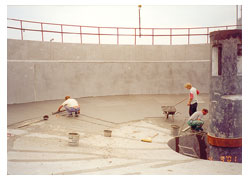 Quality Control and R&D
We are registered under the ISO 9001-2008 Quality Management System and our Team constantly strives to improve our operating procedures.  Gemite is one of the few manufacturers with all global sites registered to ISO rigorous quality standards.  Our Customers are assured Consistent Quality and Performance through our stringent testing requirements, which often surpass industry standards.
Gemite is constantly pushing the boundaries of Innovation and our Superior Quality and Solid reputation makes us the preferred industry choice for lasting and reliable solutions.  Recently introduced Nano-Technology materials and our R&D work in Industrial Ceramics are just a few breakthroughs developed by Gemite's Global Team.  Gemite's technological achievements are widely recognized by the industry and received several Patents worldwide.
Global Provider of Innovative Construction Chemicals
Gemite has Solutions for any building challenge – everything you need to build, protect & repair